Graduate Interviews
Posted on
We want to help you get to know our graduate designers a bit better so each finalist has given us an exclusive interview. Voting closes on Wednesday 15th May. You can either cast your vote on our facebook poll or send us an email, [email protected], with your chosen winner! Get voting!
Designer Interview Jessica Nam
What inspired you to become a jewellery designer?
I've grown up always preferring to make things I could use or wear and I get a lot of satisfaction from seeing a concept through from the very beginning to the hand finished piece. I've never felt fulfilled working in an office environment or in a routine and have always enjoyed being practically creative. I love the variety product design can bring as a jewellery designer, I can work with the opulence and colour of precious gem stones and then wear something precious that is beautifully made from quality materials. The feeling I get from seeing someone wear a piece I've designed and hand made myself is fabulous!!
What is your favourite piece of jewellery? (Either made or purchased)
I'm tied between my diamond and tourmaline Crevice rings and my engagement ring!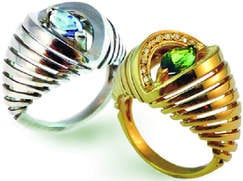 I think it would have to be my engagement and wedding rings as they mean so much to me. I had them commissioned by an amazing designer before I finished my training. They are bespoke and I loved the whole experience of designing them with my partner and one of my favourite designers Diana Porter! Every time I look at them on my hand I have some fabulous memories which I can treasure forever and I love that about certain pieces of jewellery.
Which celebrity would you love to wear your jewellery and why?
I don't really follow too many celebrities, I've always designed and made jewellery for myself to suit what I like to wear and do every day. I like things that are easy to wear but different enough to leave subtle statements and stand out. I always admire women who aren't afraid to be original and confident in their style without forgetting to be elegant and feminine at the same time.
Out-with jewellery is there any other career that you would love to try?
Working as a jewellery designer is the career I wanted to try as I used to work as a Graphic Designer. Having a previous design related degree as well as now having the technical skills in silversmithing means I can combine a lot of the creative aspects that are required when running your own business as well as the technical skill needed behind the bench.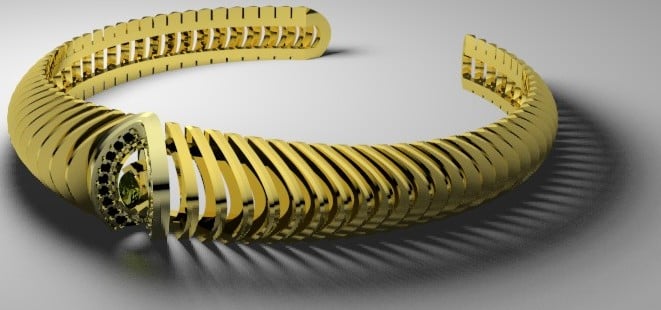 I need to do so many different tasks day to day meaning I never get bored of a routine and can use many previous skills I've acquired along my career path!
What can we expect to see from you in the future?
I'm really pleased to have been successful in gaining a place as an Artist in Residence at the School of Jewellery in Birmingham. It's the largest School of its kind in Europe so I'll be able to take advantage of the amazing facilities and equipment it has to offer to expand my collection and develop new concepts and exciting products. I start in September so can't wait!