Bespoke Jewellery Service
Bespoke Jewellery, London & Surrey

Specialists in bespoke engagement rings, bespoke wedding rings and custom-made jewellery.
Here at Nude Jewellery we are passionate about design, we create a large variety of handmade engagement rings, handmade wedding rings, bespoke jewellery pieces from custom-made engagement rings and wedding rings to traditional style earrings, handmade pendants and necklaces to more unusual and unique jewellery projects that have in the past 15 years have included: setting a shark's tooth for a pendant in gold and setting a warthog tusk in silver for a necklace.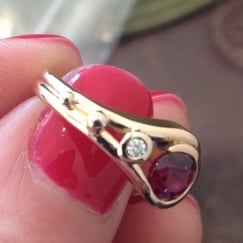 BESPOKE ENGAGEMENT RINGS
We specialise in creating handmade engagement rings. This service allows you to mix your individual style with a timeless bespoke jewellery piece that can be worn forever and be unique to you. We make sure that you are included throughout each aspect of the process to ensure that you feel confident that the finished result will be just as you imagined.

"In a miraculous turn of events, she did indeed say yes! Have a look at Emily's timeline to see all the nice things people have said! After "ooh yes please!", "it's perfect" was the next thing she said!! Thank you Nikki, she wouldn't have said yes without you!!" Peter via Facebook
"I said yes! I have to say it's the most beautiful engagement ring I've ever seen and I was completely bowled over. The comments from my friends and family has been amazing, they all think it's stunning. Thank you so much for being such a huge part of the happiest day of my life."Emily

If you are looking for an unusual gemstone engagement ring or a classic diamond ring, an unusual, alternative design or simply for more information about our bespoke engagement ring service, call 07957 371 254 or email bespoke@nudejewellery.co.uk. We have now moved from our London boutique. We are available for appointments to discuss your ideas in London and Surrey, simply send us an email and we can organise a meeting.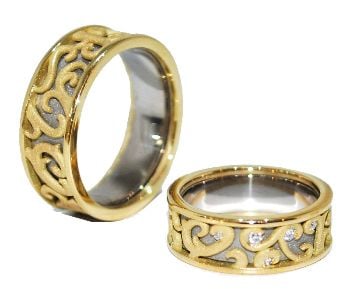 BESPOKE WEDDING RINGS
Need a wedding band that sits well with an unusual engagement ring? Or simply looking for a unique wedding ring, made for you? Our wedding rings are handmade to order so we can accommodate any design ideas. We offer a bespoke wedding ring service and specialise in bespoke jewellery here at Nude. Whether you are want a classic wedding band handmade for you, a shaped bespoke wedding band, a diamond or gem-set wedding band, unusual or quirky we can accommodate your style.

"I approached Nude Jewellery a few weeks before my wedding day to ask if they could design and make a wedding band to compliment my engagement ring. Nikki came up with the perfect design, made a mock up of it so I could see it first and then made it well within the tight timescales. The result is absolutely as I had hoped and my fiance and I are both really happy with it. From start to finish, working with Nikki and her team was a real pleasure." Caroline
Need some inspiration? Click on an image below to look at our bespoke jewellery gallery...
To begin creating your own unforgettable bespoke piece of jewellery, call us on 07957 371 254 or email us to arrange an appointment in either London or Surrey to discuss a bespoke order. bespoke@nudejewellery.co.uk

How to commission a bespoke piece of jewellery

We offer an intimate environment for you to come in and discuss your ideas with one of our experts. If you are unsure of the exact design you would like we can talk you through some ideas and show you examples of previous work that has been custom-made. This initial consultation is a chance for you to get to know us and tell us what you are looking for. We work using traditional methods and tools from our workshop but for more complex designs we can also offer professional CAD imaging.
Hand Drawn Sketches
We can create sketches for you during a meeting and work on the bespoke jewellery design together. We can also work through your design ideas through email, or you can call us and discuss it over the phone. We communicate with you on every aspect of the bespoke jewellery process and you can have as much input as you wish from the initial consultation through to gemstone selection. We want you to be involved in creating an individual, unique jewellery piece to suit your needs and budget.
Computer Imaging
For some of the more complex designs the next stage would be to create computer images. Designed in 3D, you will have the ability to view the piece from all angles and it will give you a clear idea of what it will look like. It is easy to email this image to you for approval and any changes that you would like to make can be applied to the design and then sent back to you until you are completely satisfied.
The Finished Piece
Once the design has been finalised the hard work can really begin. Your bespoke engagement ring will have any gemstones or diamonds set, the piece will then be polished and hallmarked before being beautifully presented in a bespoke Nude Jewellery ring box.
All our jewellery at Nude Jewellery is handmade by craftsmanship of the highest standards. As ever you can be assured that all diamonds sold at Nude are conflict free and will always be so.
Why Choose Us?
Nikki Galloway, owner of Nude Jewellery is a qualified Jewellery Designer/Maker, she holds a BA (Hons) degree in jewellery design from Central St. Martins and an HND from Kent Institute of Art and Design. Nikki has worked on commissions for the Sultan of Brunei, she was a British Finalist at the Ayrton Metals Platinum Awards, she has acted as a guest lecturer at Central St. Martins and frequently creates bespoke pieces for clients all over the world. Having been established in Shepherd Market for over fourteen years, she has made hundreds of bespoke jewellery pieces.
Here are a few recent testimonials...
"Nikki and the team at Nude Jewellery helped me with every aspect of my wedding jewellery, from resizing my engagement ring, to helping me design a completely unique engraved wedding ring, to finding a ring for the picky groom. They were brilliant throughout, really helpful, full of ideas, and the results were better than expected - beautiful jewellery, I can't recommend them enough! I'll be back with all my future jewellery needs!" Alice, June 2015
"Needless to say Chloë ABSOLUTELY LOVED the bespoke fox pendant!!And it's easy to see why. It's fantastic. Thank you so much for all your hard work with it" John, June 2015

"In a miraculous turn of events, she did indeed say yes! Have a look at Emily's timeline to see all the nice things people have said! After "ooh yes please!", "it's perfect" was the next thing she said!! Thank you Nikki, she wouldn't have said yes without you!!"Peter via Facebook

"Thank you so much for all the work on my bespoke wedding ring – it is really beautiful, and I am so very happy with it. My fiancé has hidden it from me, so I don't wear it before the wedding!" Louisa
"Nude Jewellery is always my first port of call for all my jewellery requirements.
Over the past few years they've worked on a variety of commissions for me. These have ranged from bespoke corporate gifts and long service medals to personal jewellery pieces and repairs to an existing ring and necklace.
On each job Nikki and her team have exceeded my expectations with the quality of their work, creativity and helpfulness. They're also very practical about budget limitations and schedule. This is all achieved with a cheerful and approachable manner that makes working with Nude Jewellery such a pleasant and professional experience.I heartily recommend them." Lucy

"Thank you so much for my beautiful engagement ring. I absolutely love it and can't stop looking at it. Just wanted to also say a big thank you for making this occasion for us even more special with your excellent service and enthusiasm. My fiancé is already designing his wedding band....looks like you'll be seeing us again!" Katie
"I approached Nude Jewellery a few weeks before my wedding day to ask if they could design and make a wedding band to compliment my engagement ring. Nikki came up with the perfect design, made a mock up of it so I could see it first and then made it well within the tight timescales. The result is absolutely as I had hoped and my fiance and I are both really happy with it. From start to finish, working with Nikki and her team was a real pleasure." Caroline
"I used the nude jewellery bespoke service to craft the engagement ring I wanted for my future wife, it was obviously a success as she said yes! The service was exactly what I was looking for. Nikki understood my requirements from my initial ideas and provided various options to guide me through the process. I was even able incorporate diamonds that had been handed down through my family. This personal touch service provided 'me' with a beautiful individual ring that makes me smile every time I see it on my Fiancée's finger" Ollie
"Nikki and the team are fantastic. Having used the bespoke service several times over the past ten years, I am always impressed with their ability to interpret half-formed ideas and create something amazing. And always better than I hoped for. I always presumed a 'bespoke' service would be way beyond my means, but they are able to work within any budget and adapt designs/materials without compromising artistic flair or quality. I've recommended them to numerous friends and family and they have been similarly impressed." Cate
To begin creating your own unforgettable bespoke piece of jewellery, call us on 07957 371 254 or email us to arrange an appointment in either London or Surrey to discuss a bespoke order. bespoke@nudejewellery.co.uk