ABOUT US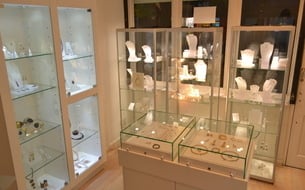 Nude Jewellery was established in 2001 by Nikki Galloway. Originally based in the quaint village-like area of Shepherd's Market, Mayfair, London our boutique quickly became established and celebrated appearances in over 100 publications worldwide including Vogue, International Herald Tribune, The Sunday Times Style, Elle, Evening Standard, Orient Express, Lux, The Sunday Telegraph Stella, and French Vogue.
Nude Jewellery - a celebrity must-stop for unique gems" - Vogue.com


"young & stylish jewellers" - The Evening Standard

With the ever evolving word and becoming well established for creating bespoke jewellery, in 2016 Nude Jewellery moved from it's London base to a studio in Surrey where we continue to create new exclusive collections and beautiful bespoke jewellery.

Nikki Galloway holds a BA (Hons) degree in jewellery design from Central St. Martins and an HND from Kent Institute of Art and Design. Nikki has worked on hundred's of bespoke jewellery commissions over the years including for Elle Macpherson and the Sultan of Brunei, she was a British Finalist at the Ayrton Metals Platinum Awards, and has acted as a guest lecturer at Central St. Martins and frequently creates bespoke pieces for clients all over the world.

Listed in Retail Jewellers Inspiring Independents Top 50 - 2014

Shortlisted for "Boutique of the Year" by The UK Jewellery Awards 2013

Listed in Retail Jewellers Inspiring Independents Top 50 - 2012

We are now based in Surrey & London, please contact us by email: [email protected] or on 07957 371 254 to arrange an appointment to view the collections or discuss a bespoke order.