WEDDING & ETERNITY RINGS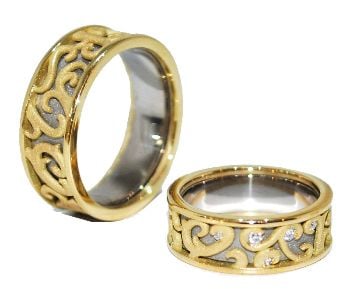 We specialise in Handmade Wedding Rings - Unique Wedding Rings - Designer Wedding Rings - Unusual Wedding Rings & Contemporary Wedding Rings.
Choosing your wedding rings doesn't need to be daunting, at Nude Jewellery we offer a wide range to suit every taste. Each ring is handmade to order whether you choose a classic wedding ring or a contemporary design. Contact us to view our complete selection and to discuss your requirements with our team of jewellery designers.
Scroll down to view wedding rings inspiration, below are some unique and handmade wedding rings we have made for clients...
If you have your own wedding ring design ideas, from organic styles, vines and flowers, clean lines, classic, gemstone or diamond set. If you are in need a wedding band that sits well with an unusual engagement ring? Our wedding rings are made to order so we can accommodate any design ideas. Alternatively if you would like to get creative you can try our 'make your own wedding rings' workshop. Click here for further information. We can make wedding rings exclusively for you.
Click here to go to our bespoke jewellery page for more information about this service
Exclusive Wedding Rings.....our unique designer wedding ring collection
Contemporary Wedding Rings.....
go modern
There are no hard and fast rules when it comes to wedding rings, the most important thing is that you choose something that you love.. Call or email us to discuss any ideas you may have for your perfect contemporary wedding ring.
Classic wedding rings..

.a selection of traditional handmade wedding rings...
Classic wedding rings..

.a selection of traditional handmade wedding rings...

Our classic wedding rings are handmade to order and prices are based on current gold and platinum prices. We have a selection of rings that you can try on in-store and decide which metal suits your skin tone, what width of ring you would prefer and which ring size fits you best. Classic wedding rings can be handmade and ready within 2 - 6 weeks. (Although if you're in a hurry we can offer a rush service in most circumstances) Call or email to arrange an appointment with one of our customer advisors.
Eternity Rings...to symbolise never-ending love
A band of metal featuring a continuous row of gemstones, traditionally diamonds, that are given from one partner to the other on a significant anniversary. This is simple idea but there are many styles of eternity ring to choose from. We offer a range of full and half eternity rings at Nude and again each ring is made to order so please allow 2 - 6 weeks for the completion of your ring.
Contact us to make an appointment, 07957 371 254

or email info@nudejewellery.co.uk for more information
Make your own wedding rings...if you're feeling creative
We offer a tutored one-on-one class for couples who want to be more practically involved in the process.
Click here for more information on our wedding ring day classes
"We had a really fun day making our rings – Nikki was so lovely. And we both still can't believe how amazing they are. It's been by far my favourite part of our wedding preparations and the most personal thing I'll take away from the day aside from my memories. Every time I look at my wedding ring it'll be a reminder of my husband because he made it for me!" Lucy White London
"Making our wedding rings was one of the many hair-brained ideas of my wife-to-be. I was dubious, given my only previous, somewhat disastrous effort at making something ended in a tangled mess in my CDT class at school! Despite all my fears, both rings turned out brilliantly, with Nikki proving an excellent and patient teacher. A great memorable experience all round and one I would highly recommend." Simon West, London