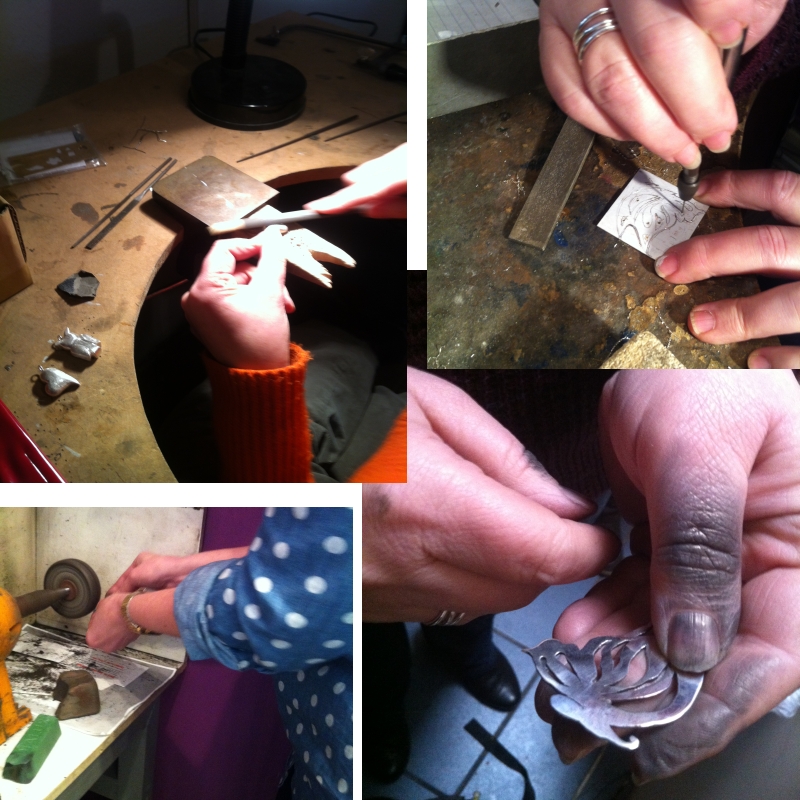 Evening Jewellery Making Silver Course

6 Week Silver Jewellery Class - This is a mixed level class but as there are only 4 students in attendance you will have plenty of one on one time with your tutor.

£245.00
Sorry sold out. Available to order. Please allow up to 14 days for delivery of this item. If you require it sooner please contact us on [email protected]
Class
Level:
Beginners - Dates for 2016 are still to be confirmed.
Time: 6.30pm-8.30pm
Class description
This is a mixed level class but as there are only 4 students in attendance you will have plenty of one on one time with your tutor. If you are new to jewellery making you will learn basic techniques and will be guided through each stage from the design process to making and taking home your own piece of jewellery.
If you are at a more advanced level you will be able to progress through different techniques in jewellery making from stone setting to wax carving all under the watchful eye of your tutor. Please advise beforehand what you will be working on so that we can have the relevant materials ready or if you need advice then contact us at Nude Jewellery.
Techniques covered
Sawing
Drilling
Finishing
More Advanced Techniques
Basic Stone Setting
Soldering
Finishing
What to bring
Yourself! Feel free to bring water and snacks with you. If you have any design ideas then bring along some sketches, if not you will find plenty of inspiration in the workshop. If you have a particular project in mind and require advice then email us beforehand. Price includes materials and tools used. There is a silver allowance which should be more than enough to cover the pieces that you make over the period of 6 weeks but if you have something larger in mind then please note that the extra silver will be charged per gram based on the current price.
General Information
The class runs for a 6 week block on a Tuesday evening from 6:30pm until 8:30pm. Classes are non-refundable and cannot be carried over into a new block, please ensure that when you sign up for this class you are able to attend each session.
Below is our student gallery which have all been created in our jewellery classes.
Testimonials
"I can't recommend the course enough - Nikki is so knowledgeable, helpful and very patient! You can come with your own ideas which Nikki will help you work through, or you can work through different techniques which Nikki is expert at teaching.

My Dad was struggling to buy me a Christmas present last year and found out about the jewellery making classes here at Nude. When he presented me with the classes gift voucher, I don't think he or I realised just what a journey he'd started me on. My job was not particularly creative, and very consuming, and I began to really look forward to coming to the workshop each week, getting my hands dirty and actually creating something I knew I could wear by the end of it. I made a bezel set cabochon ring and a silver pendant in those 1st classes and was hooked! Since then I've attended 4 sets of classes, making wax carved rings, stone set rings and pendants. The biggest thing to come out of doing this is I made a decision to change my career and am now embarking on an HND in Jewellery Design! Thanks for all your support Nikki, couldn't have made the jump without you!"
Lisa - London
'When I first attended the evening class at Nude Jewellery I had no expectations. I was a complete beginner who loved jewellery and I was interested to see if I could create a piece from start to finish. The classes are held in small groups meaning there is plenty of one on one time with Nikki. Naturally some of the techniques are difficult but the class follows a great structure and Nikki always made me feel as though I could do it....and I did! I highly recommend the classes at Nude Jewellery, Nikki is a patient teacher and will go the extra mile to make sure you that you have a great experience whilst learning fantastic new skills!'

Elaine Ruddie, London
"I have attended three courses at Nude Jewellery. I had never thought myself as capable of making jewellery but was fascinated by the concept. As a result of Nikki Galloway's teaching methods and the relaxed atmosphere of the class I was sawing, drilling and soldering with the best of them before long. The extent of my newly acquired skills were crystallised before my eyes on a recent visit to the Victoria & Albert museum in London. In the jewellery gallery a video is shown entitled 'Making a Diamond Ring' and whilst I had used an amethyst as the stone for the ring I made at Nude, I was amazed to see as the expert jeweller in the video illustrated each step in the process that I had used the exact same steps to complete my ring! The classes are fun and also productive. I have made several pieces of which I am immensely proud. Nikki makes time for everyone in the class so it can be like receiving individual tuition a lot of the time. I would recommend the classes to anyone who has ever thought how is that piece of jewellery made or just want a creative, fun outlet. I have just signed up for another course - it's addictive!"
J Dunphy-Iny, London
"I have been pleasantly surprised at what I achieved in Nude's introduction course - I never imagined before starting that I would be able to wear what I made! The atmosphere in the classes is really relaxed which makes the course fun.....and addictive; making jewellery has become more than just a new hobby."
Ellie Hall, Surrey
"I loved Nikki Galloway's jewellery class. Great teacher, innovative and patient. How fantastic to find a jewellery evening class where no time is wasted. Having been shown our tools that are provided for the duration of the course, we are given our first project. In no time I was tracing, drilling and sawing. By the end of the course I came out with a piece of jewellery that I could wear. Nikki is a fabulous teacher, helpful, innovative and above all patient. Her classes are so good I am signing up for my third course this April."
Georgie Rustin, London
"We had a really fun day making our rings – Nikki was so lovely. And we both still can't believe how amazing they are. It's been by far my favourite part of our wedding preparations and the most personal thing I'll take away from the day aside from my memories. Every time I look at my wedding ring it'll be a reminder of my husband because he made it for me!"
Lucy White, London
"Making our wedding rings was one of the many hair-brained ideas of my wife-to-be. I was dubious, given my only previous, somewhat disastrous effort at making something ended in a tangled mess in my CDT class at school! Despite all my fears, both rings turned out brilliantly, with Nikki proving an excellent and patient teacher. A great memorable experience all round and one I would highly recommend."
Simon West, London
For more information or to book your class
Call 0207 629 8999 or Email [email protected]
You can also book jewellery class vouchers as a gift which come beautifully gift wrapped - call or email for more info.
Terms and Conditions:
Deposits for courses are accepted, but full payment must be received one week prior to course commencement.
Fees paid for courses are non-refundable.
Your place on a course is secured on a 'first-come first-serve' basis by payment of the course fee.
For further information please call 0207 629 8999.