Nude Jewellery selected for Retail Jewellers inspiring independent's top 50 award!
Posted on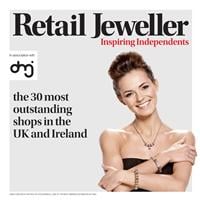 Thank you to everyone who voted for us! We are pleased to announce that thanks to all the votes from customers and friends of Nude we have made it into the top 50 inspiring independent jewellers in the UK.
Being an inspiring independent means constantly striving to offer the best customer service, offering an outstanding array of product and most importantly valuing our relationships with customers and designers alike. We are passionate about offering the best handmade contemporary jewellery from the UK and sourcing international talent to showcase a great range of diverse and unique jewellery to be worn and cherished.
Retailers who have made the shortlist will now peer-vote for each other to determine their place in the Top 50. This award is a great achievment as it is voted for by customers and retailers alike, the results will be announced at this year's International Jewellery London show in September.....we will keep you updated!
Thank you for voting!!!