....Goldsmiths Fair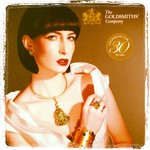 Established in 1983, Goldsmith's Fair is something of an institution. 180 designers over 2 weeks display their original and in some cases one-off pieces to members of the public to adore and buy. This annual selling event showcases independent talent from all over the country and gives makers and enthusiasts a chance to meet and discuss techniques and inspirations.
Entering Goldsmiths Hall is always an awe-inspiring experience, the grandeur and history contained in the building are a reason on their own to visit but when there's soo much talent in the air the buzz is infectious - whether you're going to spend/browse or just enjoy a few hours of admiration, it's definitely worth the £7 entrance fee. After today there are only 2 days left, 6th and 7th October, perfect weekend viewing.
Some highlights of the show for us were.....
Momoko Tamura - if you like dark fairy tales with a macabre twist then these 'wearable sculptures' will be right up your street
http://momocreatura.bigcartel.com/
Susan Jane Dunford - if you like new ideas that meet old inspirations then these sculptural boxes featuring detachable jewellery are worth a peek
http://www.susanjanedunford.com/#
Milly Swire - if you like gorgeous gemstones and unique but wearable jewellery then Milly's luscious collections will be ideal
http://www.millyswire.com/Catalog.aspx?DepartmentID=1