Graduates in The Spotlight Vote 2014
Posted on
Graduates in the Spotlight
Dovile Bertulyte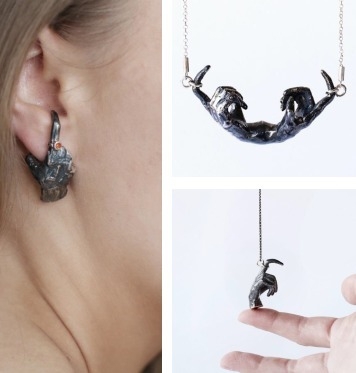 Lithuanian born London based jewellery designer. In 2013 I graduated from Middlesex University. During four years of studies I embarked on an exploration of different materials, various techniques and exclusive designs. While studying I interned in three different European countries for renowned jewellers and artists. I also went to Jerusalem, Bezalel University of Arts and Design as an exchange student. This valuable experience gave me unique perception of the world and life itself that reflects in my work.
The collection 'Fear Of Darkness is based on a common human fear nyctophobia. Fear of the dark is usually not fear of darkness itself, but of possible or imagined dangers concealed by darkness. The collection is made up of 5 initial pieces that each reflect emotions and feelings of a person who suffers from this phobia while being in the dark.
The oxidised silver plated bronze hands trigger fear within our minds while we imagine the imaginary predator or monster is lurking in the dark just around the corner.
Frank Luckham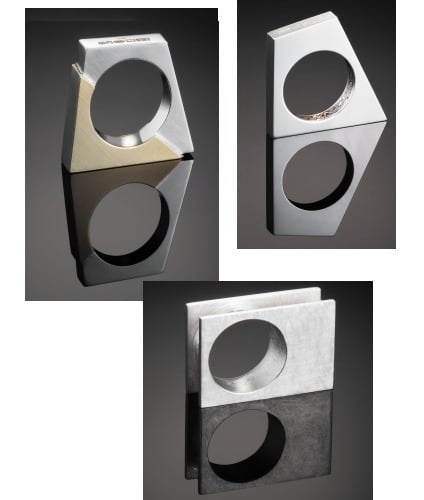 I would like to be featured in your graduate spotlight to show that contemporary jewellery does not have to be based on traditional ring styles of a circular shank with something added to it. My designs show that the shank (or hole) is an integral part of the design. My designs are also sculptural elements which when not worn, can be positioned and admired as mini sculptural forms. Initial inspiration was drawn from Barbara Hepworth sculpture.
There also seems to be a misunderstanding that square rings are uncomfortable to wear or difficult to size. It would be nice to break this train of thought and let the buyer experience how these rings actually feel.
Frank graduated in 2013 with a BA First Degree Honors in Silversmithing and Jewellery. His final work reflected the pierced form sculptural work of Barbara Hepworth and the Minimalist installations of Donald Judd.
Frank specialises in making rings in sterling silver using traditional techniques, aiming to represent two defining characteristic design elements of Modernism and Minimalism - simplicity of form and the reductive.
Agnieszka Maksymiuk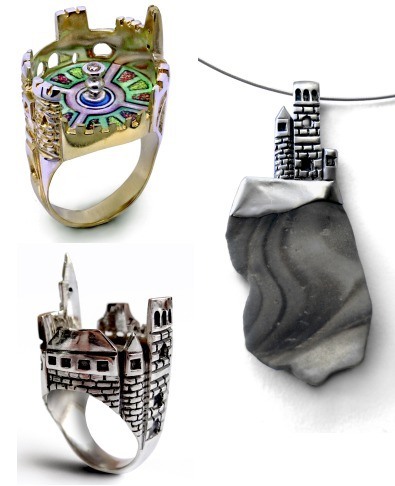 At the moment I'm an Artist in Residence and visiting lecturer at School of Jewellery in Birmingham and at the same time I work as a jewellery designer/maker. My works are exhibited in a few galleries in England and Poland.I strongly believe that the support provided by the Nude Jewellery will help me to grow and promote my brand in many aspects. Being selected for "Graduates in the Spotlight" competition would be an amazing opportunity to launch my jewellery and ideas into a professional environment and a great progression for my business . It would be a real honour to be part of this prestigious central London boutique. I create small sculptures that become wearable pieces of art.
The collection is about the relationship between the urban and the natural world in different places and cultures inspired by the landscapes of England and Poland. The main objective is to catch the essence and potential of the particular place and tell the viewer a story which is hidden behind each piece.
The 3D designs are hand carved with great skill from two dimensional drawings and paintings. The astonishing outcomes are a result of a formal training in Poland at the Academy of Fine Art and the School of Jewellery in Birmingham.