The History of the May Fair
Posted on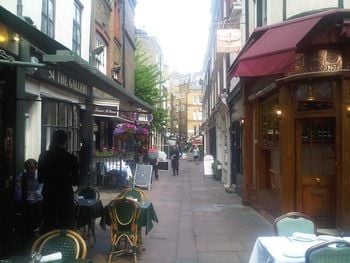 Mayfair used to be woods, open space and fields, with not much development until the May Fair was to be moved from Haymarket in St James around 1686. The May Fair would last up-to 16 days and what started as mostly cattle trading became a party for the rich and poor and increasingly chaotic and disorderly, people would wear animal masks, costumes and go around shouting, chanting and singing.
There was a popular puppet show that was held in an old coal shed where one puppet would be forced to lay down and another puppet would cut his head of with an axe.
During the first half of the eighteenth century major development happened in the area due to Sir Thomas Grosvenor's marriage to the heiress Mary Davies in 1677, they built new streets and were the cause of Mayfair changing in to a real estate hot spot.
It also meant that the new well-to-do residents of Mayfair protested that the may fair lowered the tone of the neighbourhood which led to its ban in 1764.
Walking around Mayfair today when away from the main streets it is lined with cobbled walkways that at first seem out of place, but they actually follow London's famous lost waterways called the Tyburn. Avery Row, still following the Tyburn, takes its name from the bricklayer who cleverly paved over the waterway to make the streets. Avery row is a cute cobbled lane full of bespoke shops, cafés and a pub or two.
Hidden away off a side street in shepherd market is a secret, ruby red entrance to a time capsule beneath the pavement, Dover street station now known as 'green park' is said have been used during the blitz in world war 11 by Winston Churchill and his war cabinet. They used to hold secret meetings on the bomb-proof platforms until their war cabinet rooms were finished being built in Whitehall.
Mayfair has a vibrant history and has attracted some prestigious icons like George Handel, a famous composer from the 1700's. A few doors down lived Jimmy Hendrix who lived in Mayfair in the 60's. The Beatles performed live for the last time in 1969 at a surprise gig on the roof of their Saville Row Apple headquarters in Mayfair. The gig was cut short by police but the Beatles still managed to thrill Londoners on the streets below.
Mayfair still manages to hold its charm today, the area Shepherd Market still has cobbled streets lined with restaurants that create a Mediterranean feel with smartly dressed people sat outside wining and dining.
There are traditional gentleman barbers that have a 50's retro feel and boutique shops which offer unique products you wont find anywhere else in London.