Pearls at the Victoria and Albert Museum
Posted on
'Pearls' at the V&A

I finally got around to visiting the absolutely fascinating 'Pearls' exhibition at the V&A this
week. I am so glad that I did, as it is in it's closing week and I feel my pearl knowledge has
been vastly improved by the experience.
As my friend and I arrived, we suddenly wondered if we had made a terrible schoolboy
error in attempting to peruse the 'very' popular tourist attraction on a Sunday! As we
shuffled through the heaving corridors of screaming children and harassed parents the
urge to run started to creep in, but thankfully we persevered and entered through the
'pearly gates' (sorry!).

The first chapter of the exhibition is the 'science bit', which enlightens you on how a pearl
is actually created by nature, quashing any romantic ideas I and many others have of a
pearl beginning it's life as a grain of sand. The growth of a pearl in fact begins to form
around a parasite after it has penetrated the mantle of a shell. Then, over a period of many
years, the pearl rotates as it grows, collecting layer after layer of nacre (mother of pearl)
from the interior of the mollusc shell. Interesting stuff!

Shells and pearls of all different shapes, sizes and stages of growth are on display and
very beautiful they are too. One of the highlights for me, were some large framed
monochrome x-rays of shells by artist Boo Beaumont. These images show the delicate
white layers that form a shell and on a couple of prints, you can actually see the solid white
dot where a pearl has formed. A simple idea with striking effect.

The story continues to unfold with the history and geography of this valuable commodity, of
it's harvest and trade, spanning from the Gulf to Tahiti, as well as a very in-depth
description of how cultured pearls have been developed in more modern times.
The array of spectacular jewellery and clothing that has been gathered for this show is
nothing short of breathtaking! With pieces that range from necklaces belonging to Queen
Victoria (gifts from her beloved Albert), to pearls owned by Hollywood royalty Marilyn
Monroe and Elizabeth Taylor. All of which are displayed in an equally impressive collection
of glass fronted, antique safes.

The V&A as per usual, have done a superb job of curating this exhibition. Their mix of
education and eye popping exhibits is just right. Even if you have no interest in jewellery
particularly, pearls have a genuinely interesting tale of their own to tell, if you have the time
to listen. Better be quick though as it's only open until Sunday!
'Pearls'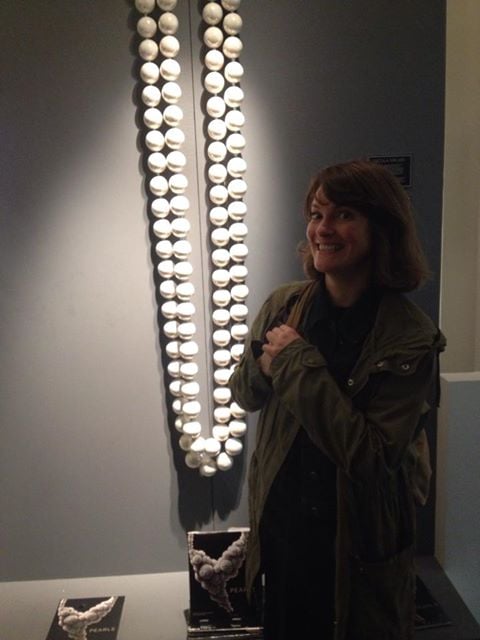 Victoria & Albert Museum, London.
21st September 2013 - 19th January 2014

http://www.vam.ac.uk/content/exhibitions/exhibition-pearls/