Interview with....Touran Reddaway
Posted on
Touran Reddaway is the designer and creator of the Firouzeh collection; an enchanting body of work steeped in ancient tradition and history. All work is 18 carat gold and uses stones such as turqouise and red agate to help tell the story of each piece. Touran takes her inspiration from Iranian and Byzantine culture which has created an incredibly moving collection of beauty and aspiration. Here Touran tells us more about her work as a designer.....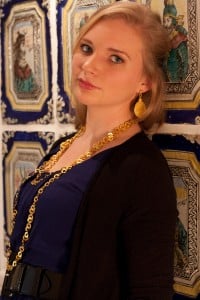 What's your background and what inspired you to become a jewellery designer?
My father is a British diplomat and my mother is from Iran. I have moved around the world with my parents on their different posts my entire life, making languages and different cultures my key interests. From a very early age I have always wanted to be involved in jewellery, I made my first necklace when I was 8 for my mother while traveling in Brazil. When I saw all the beautiful stones there I apparently told my mother that I wanted to have my own jewellery shop when I grew up. A great family friend of my mother's in Iran is an incredible goldsmith, and he encouraged me to design my own jewellery from very early on. I have been working with him for over 15 years; I work on the designs and he would then make them for me. I love history and the idea of pieces of jewellery having a story behind them, specially from the ancient world. Ancient Persia and Byzantium proved to be limitless in terms of inspiration and wonderful stories to base my pieces around. My goldsmith's son (they run a family business) then moved to Turkey, making it much easier for me to work with him and set up Firouzeh as the political and economic links between Britain and Iran are so tense at the moment. I travel to Turkey regularly (my parents also live there) and work on my designs with my goldsmith.
How would you describe your customers?
My customers are people who like the idea of wearing something unique and timeless. Because of the 18 carat gold I use, generally they are more settled in life and are able to invest in these pieces (a great investment as the price of gold never seems to go down!). I have had customers of all ages, I do not want my pieces to be limited to any age group in terms of design.
What is your favourite piece of jewellery? (either made or purchased)
My favourite piece of jewellery is a small ring I wear on my little finger. I am terrible at telling my left from my right, so my mother suggested I get a ring as a reminder. It has little granulated lotus flowers around the band, inspired from Persepolis.
Which celebrity would you love to wear your jewellery and why?
I would love for Rachel Weisz to wear my jewellery some day. I think she is one of the most beautiful women I have ever come across, a real English Rose.
If you hadnt been successful as a designer what would your plan B have been?
If I could not have been a jewellery designer I think my plan B would have been to become a travel writer. Travel is something I want to incorporate in any career I might have, and the idea of discovering new places and sharing them with others is incredibly appealing.
What can we expect to see from you in the future?
In the near future I am finishing up work on my latest line, my Mediterranean Collection. On a recent trip to Olympos, on the mediterranean coast of Turkey, I was so completely awed by the beauty and unspoiled nature of the area that I have based a new collection of jewellery on its magic.
The shimmering blues, turquoise and greens of the sea; the abundance in the citrus orchards full of fruit and blossom; the thickly forested mountains rising huge from misted valleys and then plunging straight down into the sea, were a sight to behold. The ruins of ancient temples and palaces were testament to the fantastic culture that had once dominated the area. Column heads littered the beach and mountainsides, carved beautifully with leaves, flowers and animals. Myth and reality seemed to mix.
This inspired me to include in necklaces, earrings and charm bracelets the graceful laurel leaves that are symbols of the god Apollo; and the butterflies, fish and oak acorns of the great Olympian goddess Artemis, who was particularly venerated in western Anatolia. Some of the stones I have chosen reflect the colours of the sea, while pearls represent its riches. Other stones evoke the forests. And the rich sheen of the 18 carat gold intoxicates, carrying you between worlds ....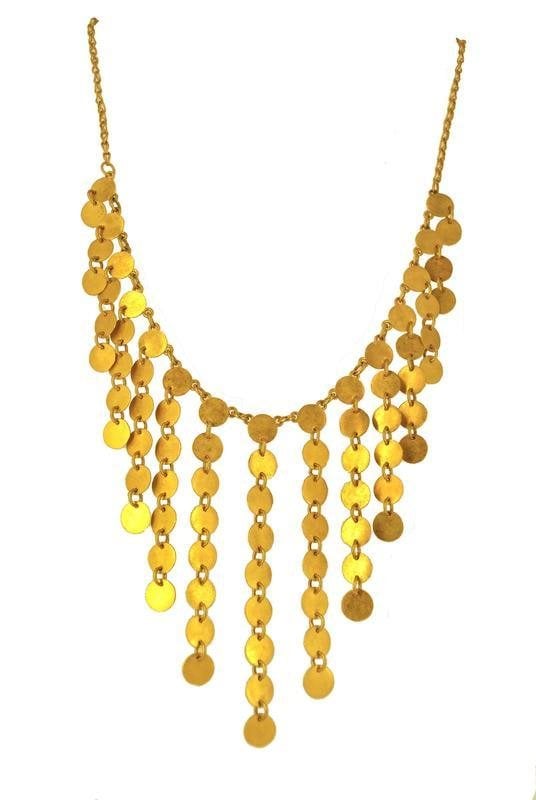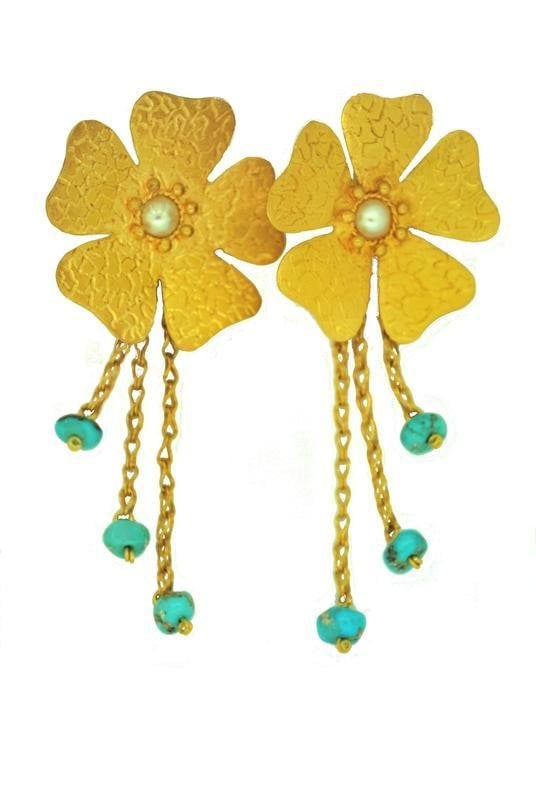 To view the Firouzeh collection click here