First hand look at Jewellery Class...
Posted on
Jacqui has been attending jewellery class for almost 5 years, in that time she has developed as a jewellery designer/maker and has become an improtant member of the Nude Jewellery family! Here she gives us an account of a challenging piece that she made in class...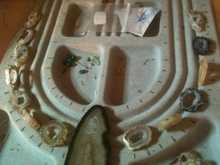 "I've been attending the evening jewellery class for around 5 years now and I'm always on the lookout for ideas and inspiration. I cant remember exactly where I found it, I think it was on a stall in a shopping centre, but as soon as I saw the large geode my first thought was that it would make an amazing centrepiece for a necklace. The following week while doing my weekly browsing in my favourite bead shop I came across small geodes that were already strung! It seemed like a marriage made in heaven as the colours were complementary to the main stone, it was fate that they should all go together in one necklace, my next project.
One thing that I've learned from the class is that it's never as easy as you first think. Having an ide

a is great but putting together the structure of the necklace would prove to be a challenge. When I spoke to Nikki about the design it became apparent that the pre-strung geodes would not be sufficient to create the chain that the larger geode would suspend from, on their own they wouldn't be able to hold it. One of the strung geodes really stood out to me and we decided to have it cast in silver to see the effect. The next week when it came back from casting it looked better than I had imagined and it was then that the idea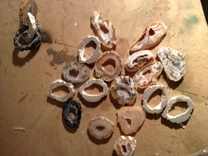 for a mixed material chain was born, mixing the small geode stones and the silver ones. I placed an order for 20 to be cast in silver with the view to making a bracelet as well.
It was then that the hard work really began! In order to attach the main geode to the chain section we would need a hole in the top of the

stone, but drilling a hole into a stone of that material would cause it to shatter. Nikki suggested making a silver setting for the geode to rest in, something that would look organic and almost as if it was a natural part of the stone. I had made settings before but not for such an elaborate piece. Designing, sawing and soldering the silver setting took a very long time! Not least because I had some time off from the project to have a baby.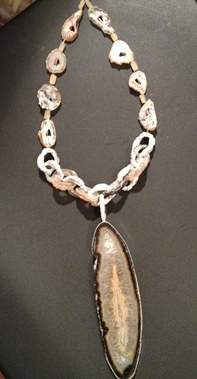 Once I returned to class I had some difficult sections to tackle. I had to complete the chain part of the necklace and this wasnt easy. Most of the silver geodes could link together with the strung geodes but not all could follow the same format and I had to spend time linking them together by hand. Once the chain was completed it was a case of linking the two sections together; chain and set geode. We decided to use one of the cast silver geodes as the link and I then had to spend more time sawing, sandpapering and polishing.
And then I was finished. I laboured on the piece for months and at times I felt like it would never come together but it has and I'm proud of my achievement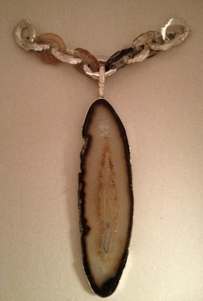 and no one can believe that I made it! Now I'm own the lookout for my next project..."
If you are interested in attending jewellery classes at Nude Jewellery please contact us on 0207 629 8999 or view our website for further information