New Designers - At The Business Design Centre 2014
Posted on
On Wednesday after a very hectic press day the Nude team headed to New Designers at The Business Design Centre in Islington. Here is our pick of some of the best new jewellery talent....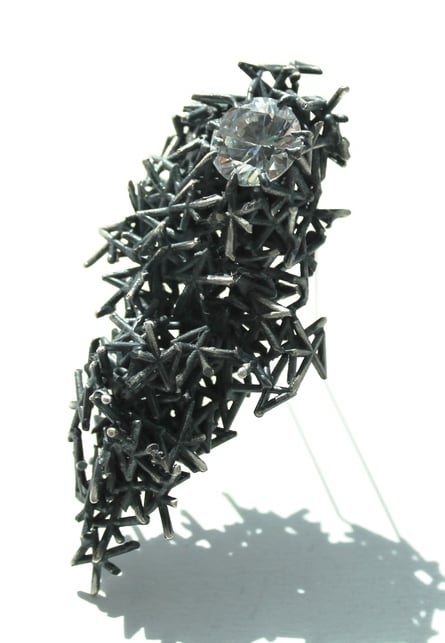 At Nude Jewellery we love unusual engagement rings and looking for new concepts and techniques using gemstones. We discovered Lindsay Hill at new designers and were drawn in by her bold symmetrical structures with contrasting emerald gemstones. She is currently exploring the use of kinetic settings which pushes the boundaries from the role of the traditional stone setting techniques.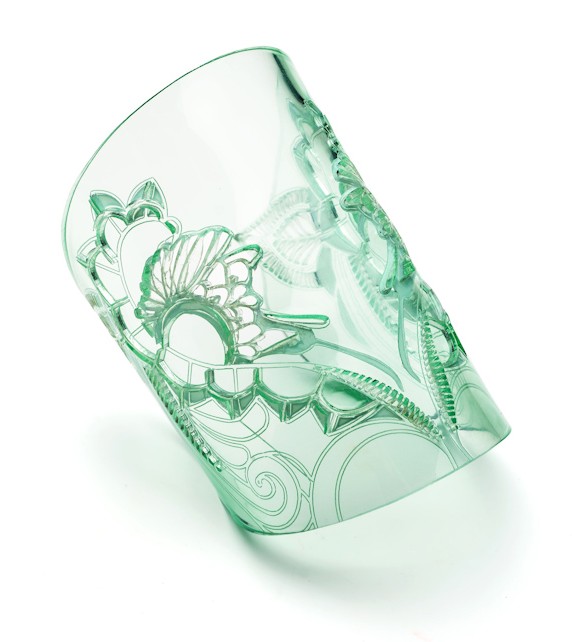 Joanna Bury's eclectic range of bold statement pieces caught our eyes. inspired by modern urban culture; patterns within the asian cultures and tattooing, Joanna's jewellery has alluring tribal patterns etched out of metal and perspex. She enjoys the way the pattern could be projected onto the skin through reflection, light or shadow creating a removable tattoo.
I had to drag Nikki away from trying on her pieces as we only had 20 minutes to see the rest of the exhibition!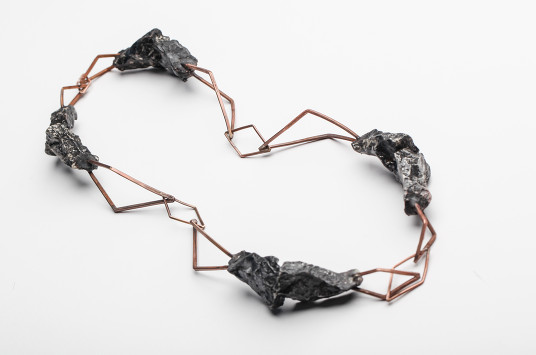 We came across Stefanie Cheong and her beautiful jewellery collection in the 'One Year On' area of new designers, she was very passionate and loved explaining her work to us.
In her current collection she uses natural resources and objects found in Scotland, then using different techniques such as electroforming, patination and stone cutting transforms the raw materials into wearable jewellery. She feels strongly about using materials that are not harmful to the environment or the lives of others and ensures she uses eco silver and gold.
Stefanie's ethos is 'Anything can be a jewel'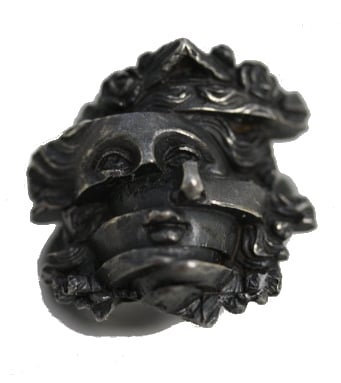 Joy Bonfield's jewellery is a mix of classic and contemporary. She sculpts the human figure or head and then deconstructs and distorts parts.

'I am inspired by the progressive disfigurement of classical sculptures. Over time these bodies lose heads, limbs or torsos, yet retain their attraction, the absence of parts completing a fuller picture
of the human form in the mind's eye.'

She challenges the functionality of sculpture and the wearability of jewellery with this beautifully sculptural handcrafted modern collection.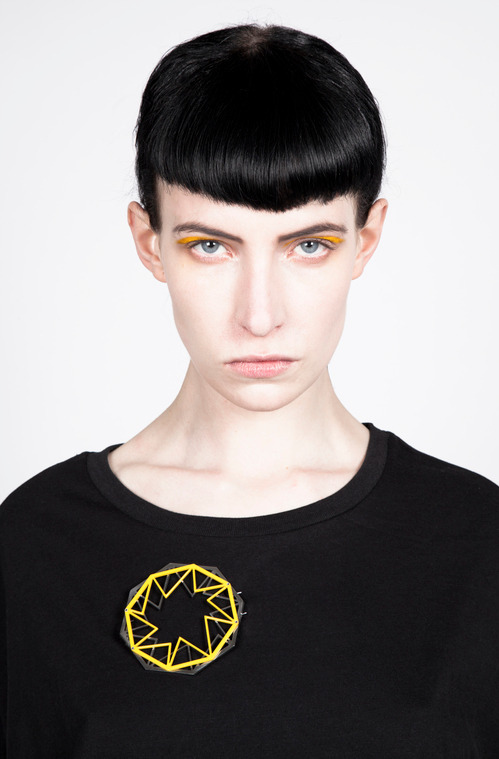 Monique Daniels jewellery is sharp and sophisticated, Geometric shapes layer up to create a kinetic illusion.
Each piece is made with precision and combines modern and fine jewellery techniques.
"Linear framing and geometric structures provide the foundation of my inspiration, drawing upon the mathematical qualities of polyhedrons, the latest collection named 'Polyhedra' translates as 'many-surfaces' focusing on layering and repetition of angles and interlocking radial lines within octagons and triangles."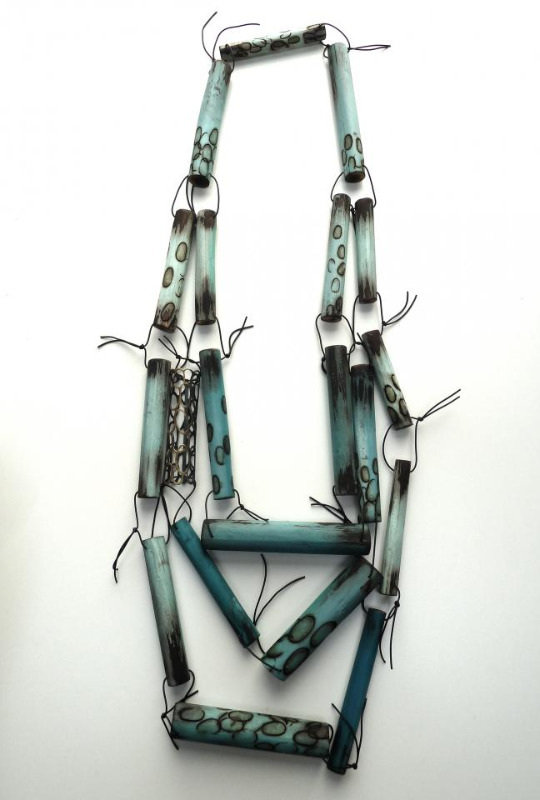 Colourful and tactile Kelly Munro's sterling silver, wood and mixed material jewellery brightened up our day.
Each piece has a slightly different colour scheme and the customer can customize their necklace to whatever colour they desire, the burnt patternation creates a bold statement. Kelly is inspired by her homeland of Scotland where she is from a town that is well know for its fishing history, she draws inspiration from the abandon ports and lobster pots.
With only a short amount of time to look around the exhibition we were overwhelmed with the vast amount of new talent and hope to be showcasing some of these collections in the near future.